Louise A. Cohen releases her book
Changing Obstacles into New Possibilities
Strategies For Achieving Life Success and Satisfaction.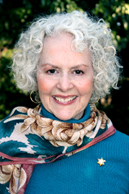 In these chaotic times, many people are talking about a loss of confidence in being able to create a life of success and value. Louise Cohen's enlightening book gives us hope again. The practical skills she gives to her coaching clients and therapy patients to overcome challenges can be tried by anyone.
These practices come out of a wonderful mosaic of life and professional experiences starting with an exciting career in the fashion industries of New York, Paris and London. Her own life challenges inspired her to resign from the fashion industry, after earning a graduate degree, with the goal of being of more service to others.
Louise traveled all over the world, enjoyed creative expression as a jazz vocalist and inspiration and training from a worldwide service organization dedicated to spiritual development and world harmony.
This training along with her professional coaching training inspired her to develop Positive Attitude Coaching. Louise is convinced that we can still accomplish our material goals without giving up our values and our respect for self and others. Along with her work as a Life and Professional Success Coach, she continues to work as a Psychotherapist, Speaker and Author.
Order a copy of Louise's book today!
Read what people are saying about "Changing Obstacles Into New Possibilities" →