CHANGING OBSTACLES INTO NEW POSSIBILITIES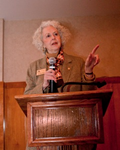 Louise Cohen is a speaker who combines professional and life experience with humor and down-to earth strategies for success. She gets her audiences to "think outside the box" to gain power in achieving their professional and life goals without giving up their values and respect for self and others. Louise enjoyed an exciting career in the Fashion Industries of New York City. Experiencing changes in values and goals, she returned to college at night, eventually becoming a licensed psychotherapist.   Louise also was an Internet radio host for Voice America Variety (You can hear her shows on her Media page).
Louise enjoyed creative expression as a jazz vocalist, travels worldwide, and offers community service with a global organization dedicated to higher human potential. She continues her work as a Speaker, Author, Positive Psychology Therapist, and Business, Professional and Life Coach.
Louise's Most Popular Topics include:
Changing Obstacles into New Possibilities – Strategies for Achieving Life Success and Satisfaction
Finding the Keys to Unlock your Power – Creating Financial, Professional and Life Success
Creating Success through Business Leadership Strategies
Flexibility – Staying Open to the Unexpected
Stress – Managing the "Too Much" in your Life
Building Employee Morale in Challenging Times
Creating Company Success Through Open Communication
Creative Problem Solving & Time Management = Company Success
Learn to Like Yourself – The Key to Professional and Life Success
Finding "the Treasures Within" for Lasting Success