Because I have had the special opportunities of many years of successful professional training and professional experience, I feel moved to make a commitment to as many people as possible to share that information. I feel extremely lucky that all that hard work continues to give me great joy. Check out my Positive Attitude Coaching Services. I have created Finding The Keys to Unlock Your Power →, The Business Leadership Program → and my series of Positive Attitude Speaking Engagements →. I want to open the possibility of that joy and success for you.
The Positive Attitude Coaching Program
Finding the Keys to Unlock Your Power

Finding the Keys to Unlock Your Power can help you discover the obstacles that have been preventing you from creating financial, professional and life success. Years of professional and life experiences have shown me the success of these strategies. I have a passion to offer this success to you.
The Business Leadership Program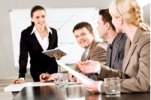 The Business Leadership Program offers organizations and individuals opportunities to explore and develop better leadership strategies and skills resulting in greater success. The Consults, Seminars and Workshops are interactive and thought provoking. While we will look at what is creating your success, we will also look at the self limiting patterns and beliefs that keep you from moving forward.
Speaking Engagements

Louise Cohen is a speaker who combines professional and life experience with humor and down-to earth strategies for success. She gets her audiences to "think outside the box" to gain power in achieving their professional and life goals without giving up their values and respect for self and others.